Tender Notice-Scrap Sale (Ground Machines & Metal Parts)-Cannanore District Cricket Association
Cannanore District Cricket Association desires to sell scrap consisting of ground equipment and metal parts on as such condition. Sealed competitive quotations are invited from interested parties for the above mentioned sale.
The items for sale (scrap) will be displayed at the Office of Cannanore District Cricket Association, Thalassery Cricket Stadium, Thalassery – 670101 on 30th & 31st January 2023 from 11 am to 3 pm. The last date for submission of tender will be 31st January 2023 at 3 pm and the tender will be opened on 31st January 2023 at 4 pm. The prescribed form (attached) shall be used to submit the tender.
Terms & Conditions
The bidder has to quote for the entire scrap (no part sale/category wise permitted)
The scrap has to considered on "as such condition"
The bidder who quotes the highest amount will be awarded the tender
Cannanore District Cricket Association will have the right to negotiate further with the highest bidder
The successful bidder has to remit the quoted amount in full on the tender awarding day and remove all the sold items from District Association premises within 24 hours
If the bidder is not able to pay the full amount on the tender awarding day, he may pay 50% of the quoted amount as advance and then pay the balance the next day and clear the items. If the successful bidder fails to pay the balance 50% within 24 hours, the advance amount has to be forfeited and the sale will be awarded to the next highest bidder
Secretary, Cannanore District Cricket Association reserves the right to accept/reject any or all quotes and also cancel the quotation notice and call for re-quote without assigning any reason thereof.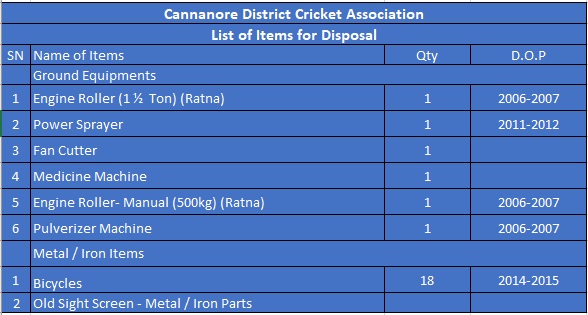 Honorary Secretary, Cannanore District Cricket Association
Date: 23.01.2023