THREE KERALA PLAYERS IN INDIA A TEAM FOR THE NEW ZEALAND "A" TOUR OF INDIA ( V A JAGADEESH, SANJU VISWANADH AND SACHIN BABY )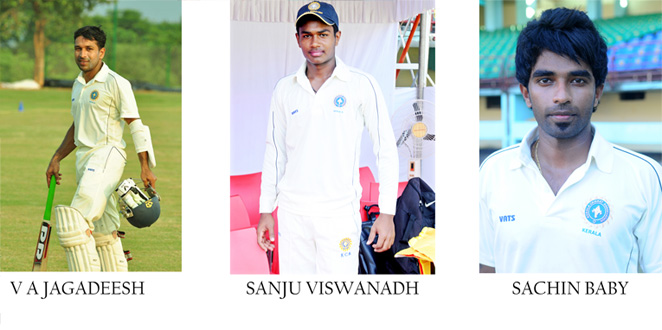 KCA: three players from Kerala selected to represent India A team vs Newzealand A team. Jagadeesh has been selected for the three day/four day games and sanju and sachin baby selected for the oneday games vs New Zealand A team ( the dates will be announced later.
Jagadeesh
is amoung the highest run getter in India last season in the first class board matches, and scored heavely in the recently concluded SHAFI DHARASHA TROPHY with two centuries and a double hundred.
Sanju viswanadh
declard as the young player of the IPL season season 6 ( for RAJASTHAN ROAYALS) also the vice captian of the the India u 19 Tri series held at Australia . Sanju is with the U 19 team at present and scored three half centuries vs Srilanka in the ongoing series.
Sachin baby
lead Kerala team in Vijay hazare and Syed mushtaq ali trophy which Kerala reached the knock out stages and performed extremely well. Sachin is also represented the Rajasthan roayal team in IPL season 6. The All-India Senior Selection Committee met at the Cricket Centre, Mumbai, earlier today, to pick the India 'A' teams for the three-day, four-day and one-day games against New Zealand 'A.' The teams are as follows: INDIAN TEAM FOR THE THREE-DAY GAME AND FOUR-DAY GAME: Abhishek Nayar – Mumbai CA – Captain Jiwanjyot Singh – PCA Unmukt Chand – DDCA Vijay Zol – Maharashtra CA Manpreet Juneja – Gujarat CA V. Jagdish – Kerala CA C.M. Gautham – KSCA Dhawal Kulkarni – Mumbai CA Imtiaz Ahmed – UPCA Aniket Choudhary – RCA Shrikant Wagh – VCA Jalaj Saxena – MPCA Rakesh Dhruv – Gujarat CA Sarabjeet Ladda – PCA INDIAN TEAM FOR THE ONE-DAYERS: Unmukt Chand – DDCA – Captain Robin Uthappa – KSCA Aditya Tare – Mumbai CA Kedar Jadhav – Maharashtra CA Mandeep Singh – Punjab CA Ashok Meenaria – RCA Sanju Vishwanadh – Kerala CA Sachin Baby – Kerala CA Dhawal Kulkarni – Mumbai CA Basant Mohanty – OCA Sandeep Sharma – PCA Shrikant Wagh – VCA Rahul Sharma – PCA Jalaj Saxena – MPCA